Lead Scholars
Lead Scholars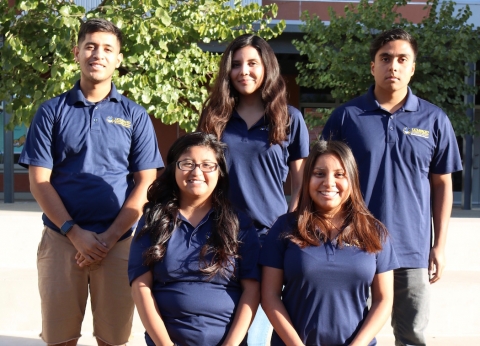 Student Staff:
Juan Robles Nava:
Hello! My name is Juan Robles Nava, I am from Orosi CA, which is a small rural town with a population under 9,000. I am a third-year Political Science major and plan to also major in philosophy as I have developed a profound interest in it. I am a first-generation college student and am the oldest in my family. I am also a DREAMER and enjoy helping others as much as I can. Some of my hobbies consist of playing the electric guitar, working on cars, going outdoors, working out and reading. I hope to assist you in any way I can and help you succeed as a first-generation student.
Office Hours: TBD
Schedule an appointment:
Yolotzin Morales:
Hello everybody, my name is Yolotzin Morales. I am from Sunny San Diego. I am fourth year Public Health major. On my free time, I enjoy binge watching Netflix shows and taking short walks to the fridge. I have a dog named Nube, who has a lazy eye, that I love very much. My favorite color is pink.
Office Hours: TBD
Schedule an appointment: 
Luis Monje Maldonado:
Hello everyone, my name is Luis Monje and I am a third-year student majoring in Applied Mathematics. Although I am not fully sure about what career I will be chasing after college, I am working on developing skills in computer programming and music production while furthering my math skills. As your Fiat Lux Lead Scholar I am looking forward meeting you and sharing my experience with my first years in college. I like to be easy-going and you will find that I have diverse interests that we may share. My goal this year is to grow professionally, academically, and as a person. Feel free to ask me anything.
Office Hours: TBD
Schedule an appointment: 
Elisa Garcia:
Coming from Los Angeles to UC Merced was a big difference. As the middle child of five siblings, I had a blast of being in or out of trouble. Going to Merced, I had the chance to run my very own elementary class. I realized from that experience my passion is empowering and helping out the youth. As a Political Science major, I have explored my profession by attending a UCSA conference and joining a professional law fraternity. LA is home but without Merced I won't have learned more about who I am and the opportunities I can do to get there.
Office Hours: TBD
Schedule an appointment: 
Ulyses Alvarado Olvera:
Hello to all. My name is Ulyses Alvarado Olvera or Uly for short. I am a Fourth-Year Physics major with a minor in Writing, and a first-generation student. I am here to help however I can with the goals you want to strive for. Some of my hobbies are to draw, write, and play video games. If you want to talk, or need some help swing on by. Happy to meet new faces.
Office Hours: TBD
Schedule an appointment:
Office Hours will take place in: Tenaya 160